The Reverend Adam Gaunt MA
Rector of Loftus-in-Cleveland & Carlin How with Skinningrove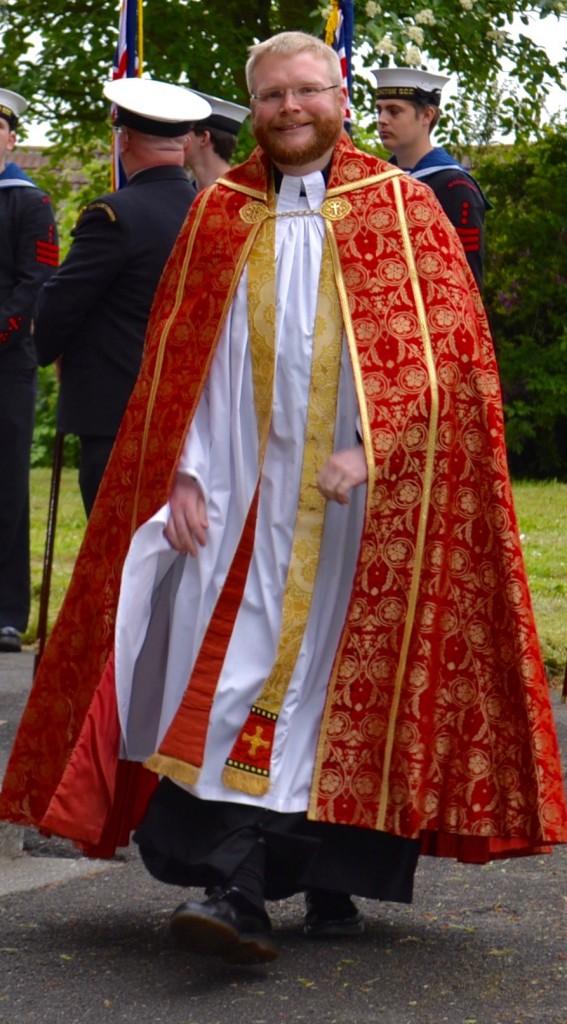 Father Adam was born in Middlesbrough and grew up within the East Cleveland villages of Brotton and Boosbeck.
On completing his education at Warsett Secondary School he attended the Prior Pursglove College in Guisborough, from where he gained a place to study Theology at Saint John's College, University of Durham.  On completion of his first degree Adam studied for a Master's Degree in Church History.  His MA thesis is entitled, "A Study of Episcopacy in Northumbria 620 – 735." 
Adam read for Holy Orders in Oxford attending Saint Stephen's House, a Permanent Private Hall of the University of Oxford.  During his time at St Stephen's House Adam was elected President of the Common Room and appointed Senior Student.
Ordained in York Minster Father Adam was appointed Assistant Curate to work alongside Canon David Hodgson in the Parish of The Ascension, Berwick Hills, Middlesbrough.  In due course Father Adam was interviewed and subsequently appointed Rector of Loftus-in-Cleveland & Carlin How with Skinningrove.
In July 2014 Father Adam was appointed by the Bishop of Beverley as "The Bishop's Representative" to the Diocese of York.  In October 2015 Father Adam was elected to the House of Clergy of the General Synod of the Church of England and Proctor-in-Convocation for the Diocese of York in the Province of York.
Father Adam held the position of Chairman of Trustees at Unity City Academy in Middlesbrough, a position he held 2010 – 2017.  Between October 2014 and May 2016, Father Adam also held the position of Trustee at the Academies Enterprise Trust, during which time he was elected Vice-Chair of the Board of Trustees.  Since May 2016 he has been a Trustee of the Greensward Charitable Trust as thereby became a Member of the Academies Enterprise Trust.
In the Benefice, Father Adam is a Governor at Whitecliffe Primary Academy School in Carlin How and a founder member of the Multi-Academy Trust, the Teesside Learning Trust.  Father Adam is also Chairman of the Board of Trustees at the Cleveland Ironstone Mining Museum in Skinningrove and has also served as Chair and Chaplain at the Guisborough and East Cleveland Unit of the Sea Cadet Corp.  Father Adam also attends the meetings of, and supports, a number of community groups within his parish.
During the Civic Year 2016-2017, Father Adam was chaplain to the Worshipful the Mayor of the Borough of Redcar & Cleveland.  In 2017 Father Adam was appointed as a Board Member of Togther Middlesbrough & Cleveland.
External links…
Greensward Charitable Trust Company Number 03230052 and Charity Number 1061263 website: http://www.greenswardcharitabletrust.org
Cleveland Ironstone Mining Museum Company Number 03837401 and Charity Number 108246 website: http://ironstonemuseum.co.uk
The Society of St Wilfrid and St Hilda Diocese of York webpage: http://www.sswsh.com/diocese-detail.php?id=196
Whitecliffe Primary School Academy website: http://whitecliffeacademy.co.uk
The Teesside Learning Trust Company Number 07185357 website: tltrust.org
Together Middlesbrough and Cleveland Company No. 9196281 and Charity No. 1159355 website: https://www.cuf.org.uk/together-middlesbrough-cleveland