News from the Diocese of York – November 2014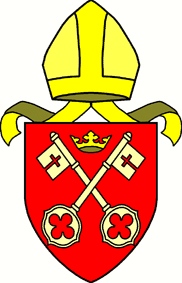 Bishop Richard Frith becomes Bishop of Hereford
The Rt Revd Richard Frith, previously Bishop of Hull, was installed as the 105th Bishop of Hereford on Saturday 22nd November, and was presented to the Dean of Hereford, Michael Tavinor, by Archbishop Sentamu.  Read more about the service here: http://dioceseofyork.org.uk/news-events/news/richard-frith-becomes-105th-bishop-of-hereford/
 Stokesley student returns from a life-changing adventure in Belize
Catriona Duffy, a Durham University student from Stokesley, says her one-year placement volunteering in Belize City has taught her invaluable life lessons and made her realise how much we can all make a difference in the world. The 19-year-old, who is a member of St Peter and St Paul's Church, Stokesley, has been on a gap year with the international Christian charity Us (also known as United Society), which runs a placement programme called Journey with Us. Find out more here: http://dioceseofyork.org.uk/news-events/news/middlesborough-student-returns-from-a-lifechanging-adventure-in-belize/
Can you make room for the manger this Advent?
The Archbishop of York is calling on the public to make the most of Advent by using the newly published Love Life Live Advent to prepare to "make room for the manger" this Christmas. Love Life Live Advent, published by Church House Publishing, contains 25 simple actions, prayers and reflections to help families make time to prepare for and celebrate the real meaning of Christmas. Love Life Live Advent is available now from Christian bookshops or via www.chpublishing.co.uk.
Inspirational Advent Calendar
At Christmas, many families feel under enormous financial pressure to create the perfect Christmas. This short-term pressure often leads to long-term despair for the poorest in our society. Archbishop, Justin Welby, has advocated strongly against pay-day lenders and it is at Christmas that many families can feel the most financial pressure to use exploitative forms of credit. Church Urban Fund has produced a free on line Advent Calendar to reflect on the issues and show how churches are helping, with daily videos and reflections: www.cuf.org.uk/advent
WW1 Christmas Resources
Among the most poignant moments in WW1 were the unofficial truces that spontaneously took place at Christmas 1914, 100 Christmases ago. Soldiers from both sides found themselves singing the same carols which led to them meeting up, exchanging gifts, burying their dead, and playing football.  The Martin Luther King Peace Committee has produced sets of high quality orders of carol and other liturgical worship services, Sunday School activities, lesson and assembly plans, plus powerpoints and handouts, to enable churches, schools, and civic institutions to mark and teach about the December 1914 Christmas Truces. Packs are available for free at www.mlkpc.org.
Organ recital from Bishop Paul
Is the Rt Revd Paul Ferguson, our Bishop of Whitby, the only Bishop who is a Fellow of the Royal College of Organists?  Come and hear him play at St Mary's Thirsk on Monday 1 December from 12.15 to 12.45.  The recital is free as part of the Community Christmas Exhibition at Saint Mary's.