Loftus Choristers Sing in Durham Cathedral!
On Saturday 8th September 2018 nine members of Saint Leonard's Church Choir in Loftus sang in Durham Cathedral for the very first time!
The Loftus choristers took their place in a large choir gathered from across the parishes of the North East England and sang musical settings by a variety of composers, as well as leading the hymns, at the annual Saint Cuthbert's Pilgrimage Mass and Procession held in Durham Cathedral every September.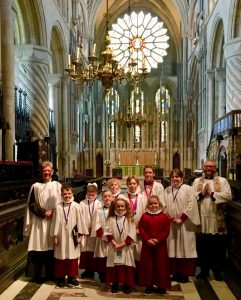 This year the service was led by the Bishop of Beverley, The Right Reverend Glyn Webster.
Father Adam Gaunt, Rector of Loftus, Carlin How and Skinningrove said,  "I am so very proud of our choristers who sang in Durham Cathedral for the first time at this festival service!  The choristers have represented Loftus church and community admirably, and we have been invited back to sing at next year's Pilgrimage Mass and Procession.  Well done one and all."
More information about the Loftus Church Choir can be found on our excellent Loftus Parish website here:  http://loftusparish.co.uk/loftus-church-choir/