Bonfire Night Party Makes Over £70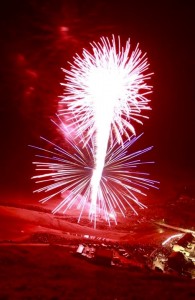 Skinningrove Bonfire Committee once again produced a spectacular bonfire and fireworks display as our community celebrated Bonfire Night 2015 on Thursday 5th November 2015.
Members of the church community gathered at Saint Helen's Parish Church Carlin How, before walking along the cliff top to see the display first hand!  On returning to Saint Helen's Church, following the fireworks display, a warm supper was provided and donations towards the upkeep of Saint Helen's Parish Church exceeded £70.00
A big thank you to those who provided the food and to members of the Skinningrove Bonfire Committee for an excellent family evening.  We are already looking forward to next year!!!