The Brass Eagle Lectern in St Leonard's Parish Church Loftus was Purchased in 2012 and was Rededicated by the Rector at the Christmas Carol Service on Christmas Eve 2012
The Brass Eagle Lectern replaces the Wooden Eagle Lectern of 1900, which had been in a poor state of repair when it was sold to help fund the building and furnishing of the Lady Chapel in the early 1990's.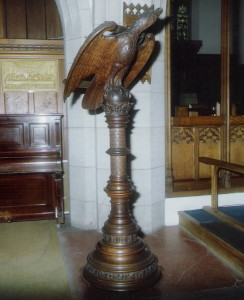 The new Brass Eagle Lectern was formerly of St Barnabas' Parish Church in Linthorpe Village, Middlesbrough.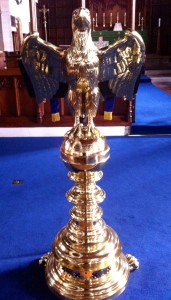 The History of the Brass Eagle Lectern
The lectern commemorates Mr. & Mrs. Hanson who for all of their lives were keen supporters of St. Barnabas' Parish Church, in Linthorpe.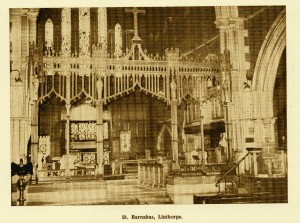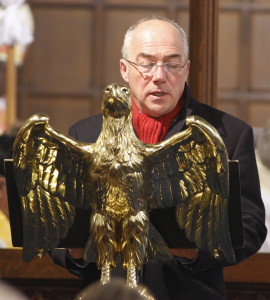 Mr. & Mrs. Hanson were residents of the parish living in a house known as South End, built in 1890, of which they were the first occupants on moving from 6, Southfield Villas in Southfield Road.  In its final years, their home, styled "Southend" became a nursing home.  A point of historical interest is that although located on Marton Road, near today's Belle Vue roundabout, the area formed part of St. Barnabas' Parish until the development of the Grove Hill housing estate and the opening of St. Mark's (later renamed St. Oswald's) Parish Church in Lambton Road.
Born 24th August, 1837, at Staindrop, County Durham, Mr. William Hanson commenced his professional career with Pease & Partners at Darlington, later moving to Middlesbrough where he became Commercial Manager at the Newport Iron Works of Sir Bernhard Samuelson & Co Ltd.  Eventually, he became a partner in the firm and the Managing Director, a position he retained for the rest of his life.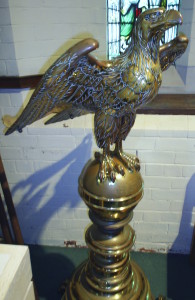 Among his several other interests and commitments, he served on the board of directors of Sadler & Co from its inception in 1883; worked with the Tees Conservancy Commissioners; served for almost twenty years as a Borough Magistrate and for three years, (1879-1882), as a Middlesbrough Town Councillor.  He also held financial interests in a number of the Durham collieries.
Married to Jane Russell, of Darlington, William Hanson had two daughters and two sons, one of which, Ernest, predeceased him in 1885 aged only fifteen years.  It was a brain haemorrhage which caused Mr. Hanson's own death on the 6th May, 1899, at the age of 6l years.
 Mrs. Hanson donated the Brass Eagle Lectern, together with an oak platform and a beautifully bound Bible to St. Barnabas' Church in September, 1904, in memory of her husband and their first son.  Acknowledging the gift as a "handsome and urgently needed addition to the church", the vicar, the Revd John Dales, added, "I scarcely know how to express my deep sense of gratitude; and I rejoice that our church contains a memorial to a man who was a constant supporter of our church."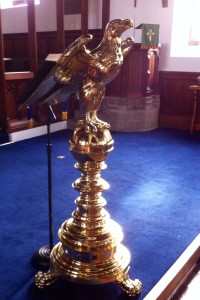 Mrs. Hanson continued faithfully to support St. Barnabas' until her death on 1st June, 1928, aged 87 years.  In her memory, the Revd Mr. Dales wrote, "I have never known a more generous supporter of our church and its various organisations.  Linthorpe Parish Church will miss her very much".
Following a significant reordering of St Barnabas' Parish Church the Brass Eagle Lectern was relegated to a side chapel and in 2012 the PCC of St Barnabas' Church applied for faculty permission to sell the lectern to the PCC of St Leonard's Parish Church Loftus.
Meantime the PCC of St Leonard's Parish Church Loftus applied for faculty permission to purchase, restore and install the lectern in St Leonard's Parish Church.  Permissions were granted and the restored Brass Eagle Lectern arrived in its new home in December 2012.
More information on the work and history of the Parish of St Barnabas' Linthorpe can be found here http://st-barnabas.net/