Calling all Confirmation Candidates!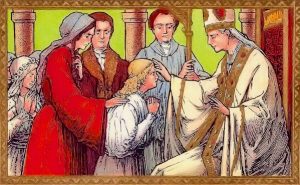 We are delighted to announce that the Bishop of Beverley will be joining us for our Sunday Parish Mass at Saint Leonard's Parish Church in Loftus, on Sunday 10th September 2017 at 10:30am, during which he will be confirming.
This will be the first Confirmation Service in the Benefice for a number of years and a great opportunity for members of our extended church community to consider:
Perhaps you are baptised (christened), but never got around to getting confirmed? – here's your opportunity!
If you are not baptised/christened (which you need to be before confirmation) no need to worry at all – this can easily be arranged.
For further information about the Sacrament of Confirmation and for the dates and times of our "Pre-Confirmation Classes and Events" please click on this link.
If you are interested in the possibility of being confirmed, please contact Father Adam before Friday 9th June 2017.  We look forward to hearing from you!