Candlemas 2014 – Sun 2nd Feb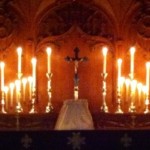 Candlemas 2014 will be celebrated on Sunday 2nd February 2014.
The Sunday Mass times will be as normal at 9:00 am at St Helen's Carlin How and at 10:30 am at St Leonard's Loftus.
The Annual Blessing of Candles and Procession will take place on the evening during Evensong at St Leonard's Parish Church Loftus at 6:00 pm.