Choir Recruitment Evening at Saint Leonard's Loftus
Saint Leonard's Church Loftus will be hosting a Choir Recruitment Event on the evening of Thursday 24th November 2016 from 6:30 pm for children aged 9 – 13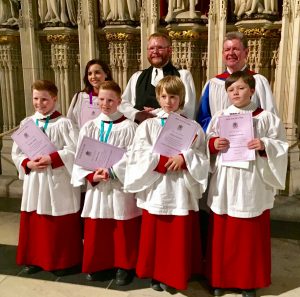 Saint Leonard's Church Choir is actively recruiting for young singers (both boys and girls) aged between nine and thirteen years of age; to add to our current number of choristers.
Any interested children and their parents/grandparents and/or guardians are warmly encouraged to attend the recruitment event in Saint Leonard's Parish Church on Thursday 24th November at 6:30 pm.
During this recruitment event there will be an opportunity to explore the church building, to hear our fabulous church organ and piano, to meet some of our current choir members and to sing!
Our Rector, Father Adam Gaunt and our Director of Music Richard Bendelow will both be in attendance to answer any questions, and the evening will also include complementary refreshments of soft drink, crisps and biscuits.
Please note that joining and attending Saint Leonard's Church Choir is free of charge and is open to all children.  Furthermore, please be reassured that all of our adult volunteers are fully DBS checked and that we work within the York Diocesan Safeguarding guidelines.
We look forward to seeing you on Thursday; however, if any adults wish to speak to the Director of Music ahead of the event, you are encouraged to contact Mr Richard Bendelow directly on 01287 634429  Further information about the new Choir at Saint Leonard's Loftus can also be found here: