A congregation of over 50 adults and 25 children braved the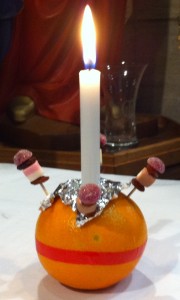 hail and sleet to attend the Annual Christingle Service at St Leonard's Parish Church Loftus on the afternoon of Sunday 22nd December 2013.
The congregation of children (young and old) sang seasonal carols and heard the Christmas gospel.
Towards the end of the service our Christngles were lit and the church plunged into near darkness for the singing of "Away in a Manger."
A retiring collection was taken for the work of the Children's Society and for St Leonard's Parish Church Loftus.