Final Lent Lunch makes £90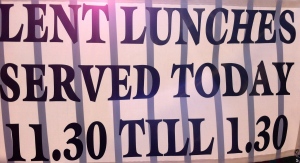 The final Lent Lunch of the 2015 season was held at the Jubilee Hall in Carlin How on Friday 27th March 2015 and made a respectable £90 for Saint Helen's Parish Church Funds.
A big thank you to everyone who has worked so hard in organising, providing, hosting and cooking our Lent Lunches 2015, which have made over £800 for Benefice funds! We are already looking forward to our Lent Lunches in 2016!