Ironstone Cross at St Helen's Church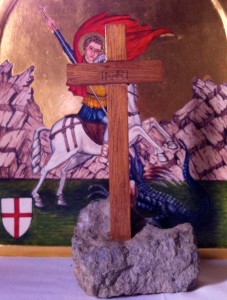 Following the successful and moving Service of Thanksgiving for the Cleveland Ironstone Industry at St Helen's Parish Church on Sunday 6th July 2014, a parishioner has donated a very special cross to St Helen's Parish Church Carlin How.
While the cross is simply made of wood it is set into a stone; but this is no ordinary stone!  This piece of stone is Cleveland Ironstone and is nothing less than a piece of Cleveland Ironstone mined at North Skelton Pit on the last day of production, the 17th January 1964 – some fifty years ago!
The Rector said, "When I was presented with this cross, following the Service of Thanksgiving for the Cleveland Ironstone Industry, I was moved and touched. We have now placed the cross on the St George's Altar for all to see and admire.  The cross and its stone will be a constant reminder to us of the sacrifice and hard work of thousands of Cleveland Ironstone miners."
More information about the Ironstone Service can be found on the following links…
http://loftusparish.co.uk/theservice-of-thanksgiving-for-the-cleveland-ironstone-industry/
http://loftusparish.co.uk/st-helens/gallery/cleveland-ironstone-service-2014/