January East Cleveland Walsingham Cell
On the evening of Tuesday 28th January 2014 the East Cleveland Walsingham Cell met in the Lady Chapel of St Margaret's Parish Church Brotton to pray together the ancient Office of Compline.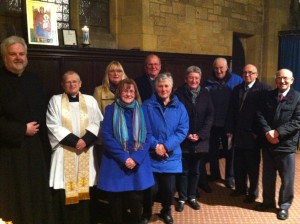 Compline was prayed before the Blessed Sacrament and the service was concluded with Benediction of the Blessed Sacrament.
The next East Cleveland Walsingham Cell Service will take place on Tuesday 25th February 2014 at All Saints Parish Church Skelton-in-Cleveland.  On this occasion Mass will be celebrated and the ministry of Anointing with Holy Oil and Laying on of Hands for Healing will be available.  All are welcome.