Lent Lunch and Saint Valentine's Dinner Make £400 for Benefice funds!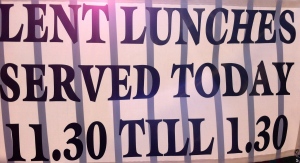 On Friday 12th February 2016, the first Friday in Lent, the first Lent Lunch of the season was held in Loftus Town Hall and made an impressive £91.00 for Saint Leonard's Parish Church funds!
The Saint Valentine's Day Dinner, which was also held on Friday 12th February 2016 in Carlin How, made an equally impressive profit of £313.50 for benefice funds!  With the profits shared, just over £156.00 has been raised for Saint Helen's and Saint Leonard's Parish churches.
A big thank you to everyone who supported these events and to all those who worked so hard to raise over £400 in a single day, which is a remarkable achievement.
Next Friday, 19th February 2016, the second Lent Lunch will be held in the Jubilee Hall on Muriel Street in Carlin How village from 11:30 am – 1:30 pm.  All are welcome to share in this soup lunch and to come together in this time of fellowship.