Loftus Beetle Drive Makes £260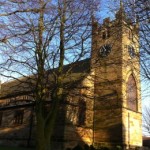 On the evening of Tuesday 13th May 2014 parishioners, supporters and friends of St Leonard's Parish Church Loftus gathered for a Beetle Drive with Pie & Pea Supper, at the Luke Senior Hall on Rosedale Crescent.
The evening was well supported and raised a magnificent £260.00 for St Leonard's Parish Church Funds.
A big thank you to Eileen and friends who arranged this evening and to all who made the time to support this event – your support is greatly appreciated.