Loftus marks the Prayer Book's 350th Anniversary
A congregation of over sixty people attended a special Sung Prayer Book High Mass at St Leonard's Parish Church Loftus-in-Cleveland on the evening of St Bartholomew's Day, Friday 24th August, to commemorate the 350th anniversary of the 1662 Book of Common Prayer.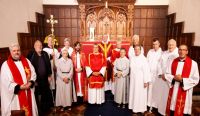 The Rector of Loftus, the Revd Adam Gaunt, presided over the liturgy and was assisted by the Revd Keith Atherley as deacon; the Revd Valerie Haynes, Priest-in-Charge of Skelton & Boosbeck, as sub-deacon; and the Revd Luke Tillett, Assistant Curate of Guisborough, as the guest preacher.
Also in attendance were: the Revd Jonathan Rhodes, Rector of Brotton Pava; the Revd Andrew Howard, Chaplain to the University of Teesside; Sister Pam and Sister Anita of the Order of the Holy Paraclete; the Mayor of Loftus and members of the Cleveland Servers Guild.
The Rector of Loftus, the Revd Adam Gaunt said, "Here in Loftus we decided that a special Prayer Book High Mass would be an appropriate way for us to mark this significant anniversary in the life of our National Church. I am grateful to my colleagues and to all who made this historic event possible – not least to my organist Raymond Conn who after many years so wonderfully dusted off the Merbecke."
The High Mass coincided with a display in St Leonard's Church of old family Prayer Books many of which belonged to local families and dated from the eighteenth and nineteenth centuries. The evening's celebrations concluded with refreshments in Loftus Town Hall.
Photograph by Simon Gaunt