Mayor at St Helen's Carols-by-Candlelight
The Mayor of Loftus Cllr Andrew Downs joined a congregation of over fifty at St Helen's Parish Church Carlin How with Skinningrove for a Christmas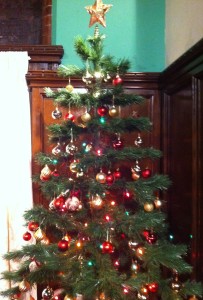 Carol Service on the evening of Sunday 22nd December 2013.
The Christmas Carols-by-Candlelight Service is traditionally held at St Helen's Parish Church Carlin How on the evening of the Sunday before Christmas and is always well supported by our local community.
Thank you to all who made time to decorate St Helen's Parish Church prior to this special service.  Thanks also go to the Mayor, to the Town Clerk and to all our readers.
A further big thank you to Margaret and Kath for supplying homemade mince pies, tea and coffee for our after service refreshments.