News form the Diocese of York – Petertide 2014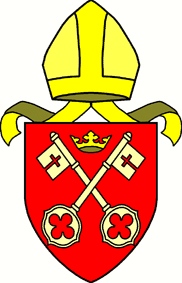 Welcome services for two new Bishops
Following on from the consecrations of the new Bishop of Selby and Bishop of Whitby at York Minster on Thursday 3rd July, everyone is invited to services to welcome the Bishops to their respective Archdeaconries.  The service to welcome the Revd Dr John Thomson as the Bishop of Selby will take place in Selby Abbey at 11am on Saturday 5th July. If you would like to attend, please email bishopofselby@yorkdiocese.org. The service to welcome the Ven Paul Ferguson as Bishop of Whitby will take place in St Hilda's Church, Whitby, at 7.30pm on Tuesday 8th July. If you would like to attend, please email julie.elphee@yorkdiocese.org.
Nine to be Ordained in York Minster
The Archbishop of York will ordain nine people in York Minster on Sunday 29th June at 10am. Eight women and one man will be made Deacons in the Church of England: the first time more women than men will have been ordained at a service in the Diocese of York.  The people being ordained by the Archbishop on Sunday 29th June, and the parishes in which they will serve are:
Gareth Atha, Bevereley Minster
Lynn Kenny, North Ormesby
Tina Minett Stevens, Scarborough St Mary
Nicola Penn-Allison, Redcar
Pauline Percy, Crathorne and Kirk Levington with Picton, High and Low Worsall, and Rudby-in-Cleveland with Middleton
Sue Pulko, Market Weighton
Catherine Reid, Ingleby Barwick
Julie Smith, Saltburn
Sarah Strand, Stokesley
Read more at http://dioceseofyork.org.uk/news-events/news/nine-to-be-ordained-in-york-minster
Diocesan Registrar steps down
Lionel Lennox, Diocesan Registrar and Legal Secretary to the Archbishop of York, will be stepping down as Diocesan Registrar this summer. The last major Diocesan events that Lionel will be attending in his role as Diocesan Registrar are the Ordination of Deacons on 29th June and Diocesan Synod on 19th July. Caroline Mockford, currently Registrar of the Diocese of Lincoln, will join the Registry Team at Lupton Fawcett Denison Till in York and begin her role as Archbishop's Legal Secretary and York Diocesan Registrar on 1st September.  Read more on this at http://dioceseofyork.org.uk/news-events/news/diocesan-registrar-steps-down/
Farewell to Ann Lees
Dr Ann Lees, Diocesan Director of Education, has announced that she will be stepping down as Director of Education from the end of September.  She said, "Having joined the Diocese in 1999 and served as Director for almost 13 years, you may well imagine that I do so with very mixed feelings.  I have been privileged to work with some amazing people over that time, and there can be nothing more rewarding than helping to make a difference to the lives of children and young people.  It has also been a time of extraordinary change in the educational landscape, and together we have had our work cut out to ensure that we adapt to change whilst remaining true to our Christian roots.  I am proud of what we have continued to achieve together and our growing confidence despite the challenging times, and I am especially proud to have been part of a fantastic and growing Education team that I know will keep up the good work with you in the future."
York CandY Summer 2014 Newsletter
The summer newsletter for children and youth workers is now out, and available to view here:http://dioceseofyork.org.uk/news-events/news/york-candy-summer-2014-newsletter/
Freewill Offers
Freewill Offers for 2015 are starting to arrive here at Diocesan House – thank you to everyone who has sent one in so far!   Please don't forget that all offers should be submitted by 31 July.  When you send in your offer, please make sure it has two signatures on it (or two representatives of the PCC are copied in to your e-mail), so we know that the offers received are owned by the whole PCC and don't just come from one person.
Gift Aid and Gift Aid Small Donations Scheme
Last year HMRC made some changes to the way Gift Aid works by introducing Charities Online claiming and the Gift Aid Small Donations Scheme (GASDS).  The York Diocesan Board of Finance has heard that for some parishes this has made preparing and submitting a Gift Aid claim seem very daunting – especially small parishes where people aren't comfortable using IT or those in places where the internet access isn't very good.  The Board understands that the money that HMRC pays back to parishes under Gift Aid and GASDS can make a real difference to finances at local level, and is working with a company called Data Developments to help parishes make their claims.  If this is something you think would help your parish, contact the finance team at Diocesan Office on 01904 699533.
What's On  
For a list of what's on in the Diocese, visit http://www.dioceseofyork.org.uk/news-events/events/