News from the Diocese – 20th August 2014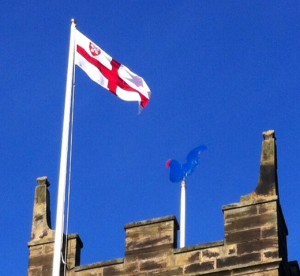 New Archdeacon of the East Riding
The Archbishop of York has appointed the Revd Canon Andy Broom, Director of Mission and Ministry in the Diocese of Derby, as the new Archdeacon of the East Riding.   Find out more about Andy here: http://dioceseofyork.org.uk/news-events/news/new-archdeacon-of-the-east-riding/
Responding to Iraq: Pray. Act. Give
The Church of England is joining calls to encourage its members to pray, act and give to those suffering in Iraq – find out more atwww.churchofengland.org/Iraq.
Mrs Betty Bates, RIP
We regret to announce that Mrs Betty Bates, wife of the Rt Revd Gordon Bates, former Bishop of Whitby and Assistant Bishop in the Diocese, died on Sunday 17th August. Betty's funeral will be held on Wednesday 27 August at 1pm at All Saints, Northallerton.
Working with Children and Young People – Cleveland training course
Jo and Andy Bowden, Children's and Youth Work Consultants for Cleveland Archdeaconry, are launching a new course this autumn. 'Working with Children and Young People' is a seven week course in the Cleveland Archdeaconry, from 3rd September to 15th October inclusive.  It's aimed at people who currently work with Children and Young People in any way from church (holiday club helpers, Sunday school leaders, Youth group workers, school governors, parish interns, etc) and those who want to start children's work, clergy, readers, lay folk.  Find out more here:http://dioceseofyork.org.uk/news-events/news/working-with-children-and-young-people-cleveland-training-course/.
Good Neighbours
The Church Urban Fund would like to invite all clergy from the Diocese of York to their upcoming event "Good Neighbours: How Churches Help Communities Flourish", celebrating the work of local churches, on Friday 19th September 10am to 3pm at St William's College, York.  Guest speakers: Lord Maurice Glassman, Canon Paul Hackwood and Heather Black (Development Worker in Middlesbrough).  Lunch and refreshments will be provided.  Please RSVP to Elissa Flindell elissa.flindell@cuf.org.uk or 020 78981091
Ironstone Cross Presented to St Helen's Church
Following the successful and moving Service of Thanksgiving for the Cleveland Ironstone Industry at St Helen's Parish Church on Sunday 6th July 2014, a local resident has donated a very special cross to St Helen's Parish Church in Carlin How, incorporating a  piece of Cleveland Ironstone mined at North Skelton Pit on the last day of production, fifty years ago.  Read more at http://dioceseofyork.org.uk/news-events/news/ironstone-cross-presented-to-st-helens-church/.
Davius Traves preaches in York
Darius Traves preached at St. Hilda's in York on the first Sunday morning of August. It was an unusual sermon: Darius has very little muscular control, a common symptom of cerebral palsy, and so his speech was hard to understand. He stood next to a screen as he spoke, onto which his words were projected. And what words.  Find out more about Darius, and how he could speak at your church, here:http://dioceseofyork.org.uk/news-events/news/davius-traves-preaches-in-york/.
Dignity In and Out of Work
Come and hear the experiences of people from our area living on low incomes and the impact this is having on them and their families at Middlesbrough Community Church, Clifton Street, Middlesbrough, on 17th September 2014, at 6.30pm.  The Very Rev Canon Derek Turnham will chair the event.  Contact Thrive Teesside on mail@thrive-teesside.org.uk or 01642 614126 (ext 210).
What's On  
For a list of what's on in the Diocese, visit http://www.dioceseofyork.org.uk/news-events/events/