Rector Elected to the New General Synod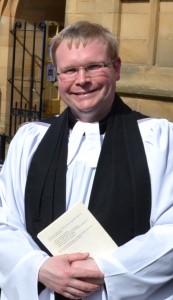 This week our Rector was elected to the House of Clergy of the General Synod of the Church of England as part of this year's General Election to the General Synod.  Father Adam is one of five clergy and six laity elected to represent the Diocese of York.
Our Reader Jeanne did exceptional well, but unfortunately just missed out on election.  Nevertheless, Jeanne could still join the ranks of the House of Laity should a sitting diocesan member need to withdraw from the General Synod.
Father Adam said, "I am delighted to have been elected by my colleagues to the House of Clergy of the General Synod, and I pray that I will be a worthy member of the new Synod."
Those elected to represent the Diocese of York in the new General Synod are:
House of Clergy
Sarah Bullock
Jackie Doyle-Brett
Adam Gaunt
Paul Hutchinson
Rowan Williams

House of Laity
Linda Ali
Heather Black
Ros Brewer
Lucy Gorman
Nick Land
Michael Stallybrass
Further information can be found by clicking on this link:
http://dioceseofyork.org.uk/people-and-places/general-synod-elections/