Rectory Coffee Morning makes £40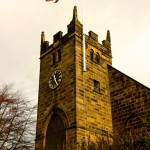 The Church Coffee Morning, hosted by Father Adam at Loftus Rectory on the morning of Wednesday 28th September 2016, made a respectable £40.00 for Saint Leonard's Parish Church funds.
A big thank you to everyone who supported this wonderful social event!
Furthermore, such a good time was had, it was announced that another Rectory Coffee Morning shall take place in due course; details will appear on this website.