Restored Red Altar Frontal
At the Sunday Parish Mass on Sunday 16th March 2014, the Rector blest the newly restored red altar frontal.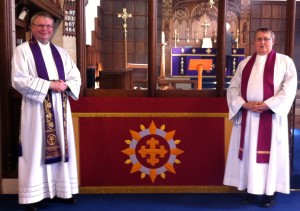 The original red altar frontal had seen better days and a generous donation left by Mrs Joan Peggs, a life long member and former sacristan at St Leonard's Loftus,  made the restoration possible. The new frontal will be used for the first time on Palm Sunday 13th April 2014.
Red is used as a liturgical colour during Holy Week, when it represents Christ's Precious Blood. Red is also used on the feast of Pentecost (also known as Whitsunday) when the colour reflects the flames of God the Holy Spirit; furthermore, red is used for the feast days of those saints who have been martyred for the Christian faith.  These three different uses are reflected in the restored frontal.

In the centre of the restored frontal is the Holy Cross, which is central to the Christian life. The Cross is surrounded by a circle which represents the flames of the Holy Spirit (Pentecost) the Crown of Thorns (Holy Week) and the Crown won by the Holy Martyrs.