Second Lent Lunch makes £80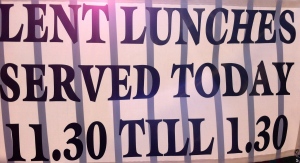 Our second benefice Lent Lunch of the season, held on Friday 27th February 2015 at the Jubilee Hall in Carlin How, made a respectable £80 for Saint Helen's Parish Church funds.
Guests were treated to a wide selection of different homemade soups followed by tea and coffee. Next Week our Lent Lunch returns to Loftus and will be hosted by Joyce.  We look forward to seeing you there.