September Bingo makes £160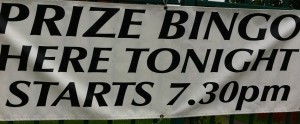 Saint Helen's Church Bingo returned after the summer break on Thursday 11th September 2014 and made a remarkable £160 for Saint Helen's Parish Church funds.
A big thank you to all our regular supporters and friends.
The next Saint Helen's Bingo will take place on Thursday 16th October 2014 7:00 pm for a 7:30 pm start, at the Jubilee Hall and Community Centre on Muriel Street in Carlin How village.  All are welcome.