Service of Thanksgiving for the Cleveland Ironstone Industry
A Service of Thanksgiving in the 50th Anniversary Year of
the Conclusion of Cleveland Ironstone Mining
 Sunday 6th July 2014 commencing 1500 hrs.
At St Helen's Parish Church, Carlin How, TS13 4ES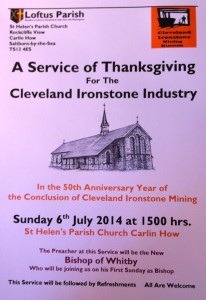 The Parish Church of St Helen Carlin How in conjunction with the Cleveland Ironstone Mining Museum Skinningrove are hosting a Service of Thanksgiving and Remembrance, for the men and women who worked in the ironstone mines and iron industries of Cleveland.
By invitation of The Reverend Adam Gaunt Rector of Loftus, Carlin How and Skinningrove this unique Service of Thanksgiving will be led by The Right Reverend Paul Ferguson Bishop of Whitby who will also deliver the sermon.  This will be Bishop Paul's first Sunday in office as Bishop of Whitby since being consecrated bishop on Thursday 3rd July 2014 in York Minster.
During the prayers of remembrance, eight special candles will be lit: seven to symbolise those mines within the Cleveland area which remained working up to the late 1950s and early 1960s; while the eighth candle will be dedicated to all the other Cleveland Ironstone Mines.  The North Skelton Band will provide the music at the service, this is another link to our Cleveland Ironstone Heritage as the North Skelton Pit was the last to close on the 17th January 1964.
Father Adam said, "While the fiftieth anniversary of the conclusion of Ironstone Mining in Cleveland is inevitably a poignant one; it is also a great opportunity to remember and to celebrate our rich industrial heritage.  The Service of Thanksgiving and Remembrance will enable the people of East Cleveland to come together to remember and to celebrate the great industrial heritage of our region."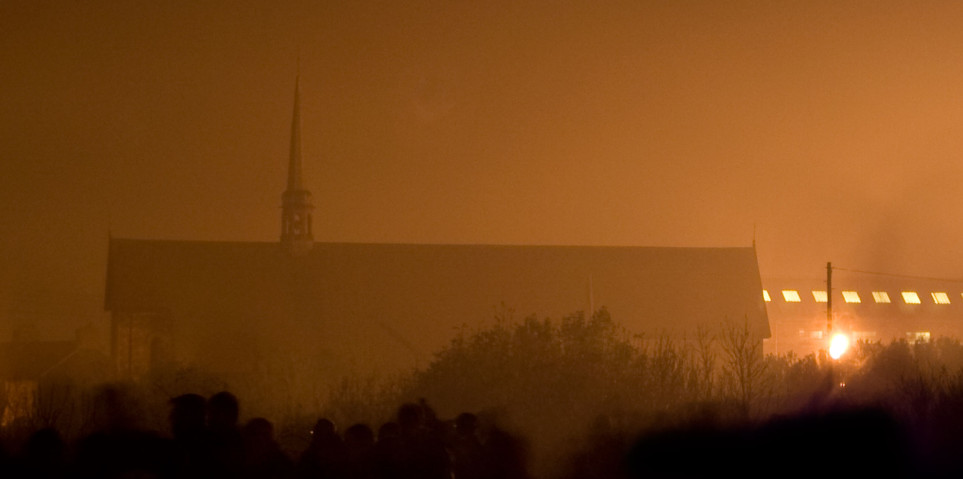 David Dance, Chair of the Cleveland Ironstone Mining Museum's Board of Trustees said, "This service will give our local communities a focal point to remember the men and women who worked within the industry.  It is also a time to remember the effect that the closure of the mines had on the local industry and the cascade of effects that rippled across East Cleveland.  The museum is proud to support this event which is in keeping with our ethos of keeping the rich industrial heritage of the area alive."
Alan Richardson, a former miner from the North Skelton Pit, who entered the mines as a young apprentice, has also been asked to take part in the Service.  Alan said, "I saw my job as being a job for life."  He remembers vividly the work he did within the mine and Alan now regularly delivers talks about the Ironstone Mining Industry to various community groups within Teesside and East Cleveland.  Alan recalls quite vividly how the closure of the North Skelton Mine came, "Out of the blue!  It was as if the world was coming to an end."
We are pleased to announce that we are expecting a number of civic, political and industrial figures to join us for this Service as we remember and celebrate the great industrial heritage of East Cleveland and Teesside.
Further information about the Cleveland Ironstone Mining Museum can be found at http://ironstonemuseum.co.uk
The North Skelton Band was established in the mid 1800's.  Further information about the band can be found at http://www.northskeltonband.org.uk/home.htm