St Helen's Bingo makes over £90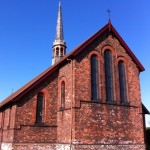 A big thank you to all our regulars and supporters who made the St Helen's Church Bingo on Thursday 10th April 2014 such a success.
Because of your generosity and support we managed to make over £90.00 for St Helen's Parish Church Funds.
There is a special Church Bingo on Easter Bank Holiday Monday the 21st April 2014.  St Helen's Easter Raffle will be drawn at 2:00 pm and the Bingo will begin at 2:30 pm.  All are welcome.