St Helen's March Bingo makes over £100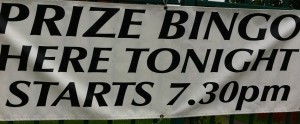 The Saint Helen's Parish Church March 2015 Monthly Bingo made a total of £104.50 for Saint Helen's Parish Church Funds.
A big thank you to all our regular supporters and friends for your continuing financial support for your local Parish Church.
We are pleased to announce that there will be a special Easter Bingo on Easter Bank Holiday Monday, Monday 6th April 2015 2:00 pm at the Jubilee Hall.  This special Bingo will also include the drawing of the Saint Helen's Parish Church Easter Raffle.
Saint Helen's next Monthly Bingo will take place on Thursday 16th April 2015 7:00 pm for a 7:30 pm start.  All are welcome to these events.