St Helen's November Bingo makes £100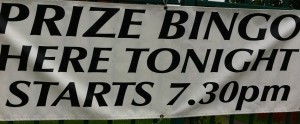 The St Helen's Monthly Bingo for November, was held on the evening of Thursday 13th November 2014, and made over £100 for St Helen's Parish Church Funds.
A big thank you to our regulars, to all our supporters and to Kath from organising such a great evening.
The next Monthly Bingo will be held on Thursday 11th December 2014, at the Jubilee Hall on Muriel Street, Carlin How, 7:00 pm for a 7:30 pm start.
This event will also include the drawing of the Annual Christmas Raffle and all are welcome to attend.  See you there!