St Helen's Summer Fayre makes £270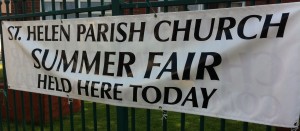 Saint Helen's Annual Summer Fayre, which was held on Friday 20th June 2014 at the Jubilee Hall in Carlin How, made an impressive £270.00 for Saint Helen's Parish Church Funds.
A big thank you to all our friends and supporters, especially to all those who ran a stall, those who contributed to the baking for the cake stall and to those who supplied prizes for the raffle.
Saint Leonard's Summer Fayre will take place in Loftus Town Hall on Saturday 28th June from 10:30 am.  All are welcome.