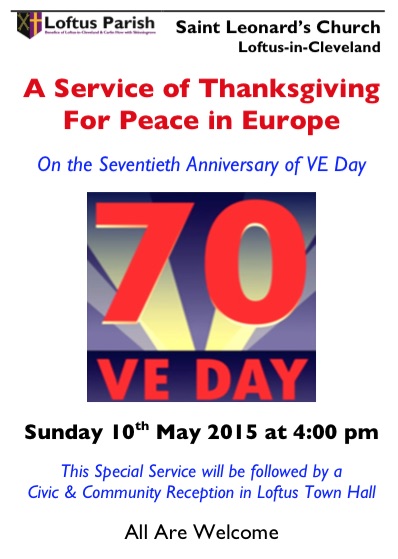 On Sunday, the 10th May 2015 at four o'clock in the afternoon, Saint Leonard's Parish Church Loftus, in partnership with Loftus Town Council, Loftus Community Special Events Group and other community groups, will be hosting a special Service of Thanksgiving for Peace in Western Europe on the 70th Anniversary of VE Day.
The Service of Thanksgiving has been arranged in response to a request from central government for communities to celebrate this milestone in British History.
The Lord Lieutenant of North Yorkshire will be attending the Service of Thanksgiving and the Sermon will be delivered by The Right Reverend Gordon Bates, Honorary Assistant Bishop in the Diocese of York and sometime Bishop of Whitby. It is expected that the Service will also be attended by a number of Civic and Community Leaders from across Teesside and North Yorkshire, alongside representatives from local uniformed organisations and members of the public.
Father Adam Gaunt, Rector of Loftus said, "This is a wonderful opportunity for our community to come together, and not only mark the 70th Anniversary of VE Day, but also to celebrate seventy years of peace here in western Europe."
At the invitation of the Mayor of Loftus the Service of Thanksgiving will be followed by a Civic and Community Reception in Loftus Town Hall, which will be open to everyone who attends the service.
Further details may be found online at www.loftustc.co.uk and any enquiries should be directed to the Town Clerk of Loftus on 01287 641000.