Walsingham Cell Service 29th June 2017 – Postponed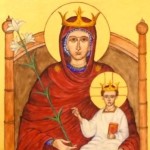 It is with regret that the East Cleveland Walsingham Cell service, scheduled to take place on Thursday 29th June 2017 at Saint Aidan's Parish Church in Boosbeck, is unable to go ahead as planned.  We are sorry for any inconvenience caused.
Our next monthly East Cleveland Walsingham Cell meeting is scheduled to take place on Saint James' Day Thursday 25th July 2017, 7:00pm at Saint Margaret's Parish Church in Brotton.