Whitecliffe Primary School at St Helen's
Over one hundred students from Whitecliffe Primary School Carlin How packed into St Helen's Parish Church for their Annual Christmas Carol Service on the morning of Thursday 19th December 2013.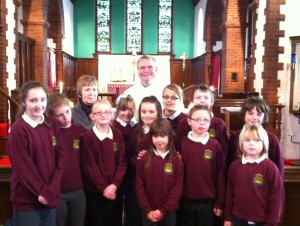 The students were supported by their Headteacher Mrs Shannon, their staff, school governors, parents and members of the local community for one of the highlights of the school year.
Our thanks go to all who organised this event and to all those who took part in this year's successful Whitecliffe School Carol Service.
NB Photograph used with the permission of Whitecliffe Primary School