Whitecliffe School Carol Service 2015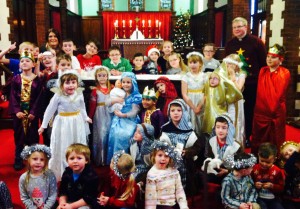 Whitecliffe Primary School in Carlin How village, visited Saint Helen's Parish Church Carlin How on the afternoon of the last day of term, Friday 18th December 2015, for their Annual Christmas Carol Service.
The Carol Service came immediately after the School Christmas Dinner at which two hundred Christmas meals had been served to pupils and their families, governors, staff and friends of Whitecliffe Primary School.  Consequently, Saint Helen's Parish Church was packed almost to capacity with some guests needing to stand at the back of church to watch as the students sang carols and as a traditional nativity scene was created in front of the Nave Altar.
Father Adam said, "Today's service was the best yet for Whitecliffe School with record numbers of parents and family members supporting the students at today's excellent Carol Service."
The service concluded with a loud rendition of, "We wish you a Merry Christmas!"
Please note that the accompanying photograph is used with the permission of the Head Teacher.