Women's Institute Christmas Carol Service 2015
This year the De Brus Group of the Women's Institute held their Annual Christmas Carol Service at Saint Leonard's Parish Church, Loftus-in-Cleveland, on the evening of Wednesday 2nd December 2015.
Almost seventy members of the Women's Institute from Loftus, Guisborough, Saltburn and Redcar attended the service and were joined by members of the church community for a Christmas Carol Service by candle light, which was led by the Rector of Loftus The Reverend Adam Gaunt.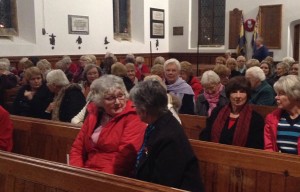 After the service, tea and coffee was served alongside a selection of homemade mince pies. A good and enjoyable evening was had by all at the beginning of the festive season.
Further information about the Loftus branch of the WI can be found by clicking on this link http://loftuswi.weebly.com/index.html